God is powerful and He is awesome, right?  If that is true, then why is it so hard for us to believe in Him?  Why are we so prone to doubt God?  I don't know about you, but there are times that I doubt Him.  I don't start out thinking that way, but when I analyze my thoughts, that is the real conclusion.  There are times when I simply do not believe God can handle what I am facing.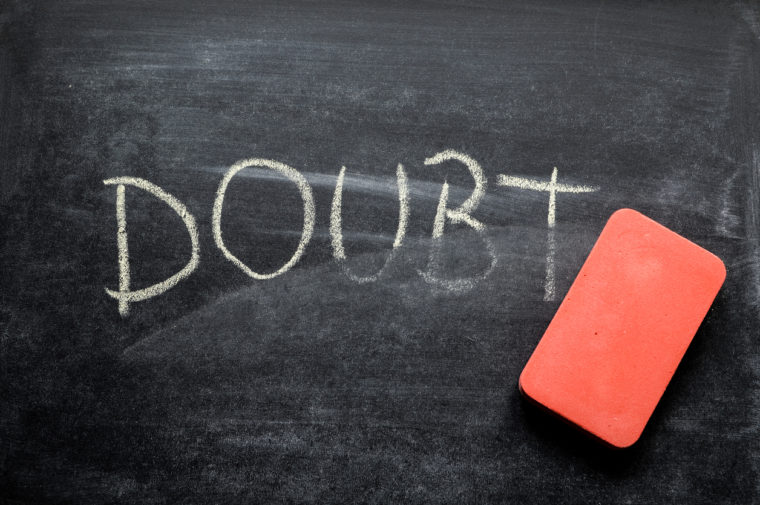 In my last post, I had you think of a time when you were at your lowest; when your doubts were overwhelming.  I told you to feel the emotions of that particular time and then answer the question, "Who are you doubting?"
I proposed that there were only two possible answers to that question.  Either you were doubting yourself or you were doubting God.  That last post addressed what to do if you were doubting yourself.  Now I want to speak to those who determined that they were doubting God.
Before I go any further, I want to confess.  I lied.
The Real Answer
There are not two answers to the original question, "Who are you doubting?"  The truth is that there is only one answer.  It may appear to you that you are doubting yourself.  If so, you are not alone in this perception.  In fact, the idea of doubting God might even mortify you.  That is not uncommon.
However, no matter how you slice it, you are actually doubting God.  No matter what you believe about yourself, the root of that belief is a doubt in God.
Think you are too sinful?  You are doubting His forgiveness.
Think you are too weak?  You are doubting His strength in you.
Think you are not skilled enough?  You are doubting His promise to equip you.
Think you are not _____ enough?  You are doubting a promise of God.
The True Nature of Doubt
The truth is that God created you and has promised to complete the good work He started in you (Phil. 1:3-6).  If this is true, and I believe it is, then any form of doubting yourself is actually doubting God can do what He said He will do.  Do you see that?
So…if we can agree that any doubt in ourselves is actually doubting God, then we ALL need to know how to stop doubting God!  While this initially may be a scary thought, at least we know we are not alone, right?  We are all in this boat together!
I believe there are likely many strategies or ideas regarding how we can stop doubting God.  I do not claim to have all of the answers here.  If this was an easy problem to solve, then there would not be so many of us doubting Him, would there?
Fortunately, I have four actions that I believe can dramatically help us when our doubts overwhelm us.  These actions are not difficult to understand.  They are not even difficult to execute.  At the same time, they will not naturally come to mind when the doubts set in.  We must be intentional to revisit these actions whenever we see the signs that the doubts are returning.
Action #1 – Recognize the Source
There is an enemy and he is determined to destroy you and your witness.  He is bent on rendering you useless in God's story.  He is the father of lies and is also known as the accuser.  One of his favorite weapons against you is doubt (Gen. 3:1-7).
If you can recognize early on in the "doubt cycle" that you are being attacked by an enemy, you are more likely to repulse it.  Just knowing that the thoughts or feelings are not legitimate, but are the weapons of an enemy, can be enough to keep them at bay.
Action #2 – Look at the Past
One of the best predictors of future behavior is past behavior.  When you begin to doubt whether God will get you through or overcome whatever you are facing, you need to stop and look in the rear-view mirror.
Look to your past and remember the times He has already been there for you.  Look to your salvation.  Look to His faithfulness to you over the years.  You can also look to the Bible for almost endless examples of His faithfulness to His children.  Whether you look to your past or His past, you will find He has ALWAYS done what He said He would do.  He has proven this time and again.
Action #3 – Trust His Promises
Not only is the Bible full of examples of His faithfulness, but it is also full of His promises.  We are often victims of doubt because we are too ignorant of His promises in Scripture.  If we are serious about fighting off our doubts, then we must learn and meditate on His promises.
Take time to search the Bible for God's promises relating to your doubts.  Mark those that are especially helpful so you can find them later.  Even better, memorize them so that you can recall them immediately upon the first signs of returning doubt!
Action #4 – Pray For Help
Just like the father I mentioned in my last post, we must ask God to help our unbelief!  We should pray that He would lead us in the above actions as we seek to battle against these doubts.  We should pray that He would put others in our lives that can speak to these doubts as a result of their own experience with Him.
God has promised to be there for our needs.  Fighting doubt can be a very pressing need and He wants us to come to Him for that help.  He also wants us to take advantage of the other resources He has provided us in His Word and in the experiences of fellow believers.
You are fully capable of fighting these doubts.  You are a child of God and He is faithful to strengthen you against them.  Trust Him.
---
Photo by sebastianosecondi / iStock