Just reading the title of this post makes me feel weird! I am not that guy in my mind. I am not someone that gets the opportunity to teach a group of Christians one third of the way around the world. I have so much to learn myself…I could not possibly be able to teach anyone, right? Even if the subject of the conference is Christian Business, something near and dear to my heart, I do not feel qualified.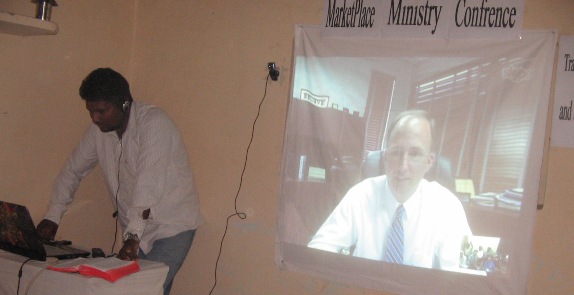 Regardless of how qualified I feel, that is exactly what I had the opportunity to do a couple of weekends ago. I was given the opportunity to teach a small group of Christians in Chandigarh, India about Christian business and taking their faith into the marketplace. Before I give you more details about the event itself, let me tell you a little about how it began.
My Passion
I started this blog only eight months ago. I started from scratch. I did not have a platform ahead of time. I did not have a name in the Christian business world beyond my fairly small circle of influence. All I had was a passion welling up inside of me that had to get out.
This passion is for Christian business – using our businesses and/or leadership positions to do ministry for eternal impact in the business world. This passion is what has driven me to attempt to run my business with an eternal perspective for the past eight years. This passion has brought disappointment and victory, but it has also brought opportunities I never would have imagined before.
First Contact
After several months of blogging about Christian business, I received a comment on one of my posts from Pastor Rajeev in India. We exchanged emails and began communicating about our similar passions.
Rajeev mentioned another contact here in the U.S. named Scott Pitman. Scott is actually a car dealer like myself! He owns a very successful Suzuki dealership in Wichita, KS. More than that, Scott is a prime example of a Christian using his business as a platform for ministry. Check out his foundation's website (Walking in the Reign) to learn more about what he is doing in Wichita as well as Haiti and India!
The Invitation!
Anyway, I talked to Scott about Rajeev and got some information on the work Rajeev has been doing with Scott's help. I continued communicating with Rajeev about his ministry and mine. One day, he asked me if I used Skype.
I told him I did. He went on to ask if I would be interested in using Skype to teach some of the business people and professionals in his church about Christian business and marketplace ministry. I was shocked at first (reread the first paragraph of this post!), but then I realized God was certainly working in this. There was no other way that someone like me would get this opportunity – except by God!
My Fears
We made necessary preparations, including a practice run with Skype, and then set the date. The closer the date got, the more nervous I got! Surely something would happen and it would get canceled or postponed…maybe they find out I am not really qualified! More likely, they will run across someone else with better skills and more knowledge. Maybe I should even find someone for them and suggest they make the switch!
Maybe you would not have thought all of these things, but I did. I must have asked Rajeev ten times to give me a better feel for the cultural differences, his expectations, the make-up of the audience, etc. I wanted to know more so I could feel more secure. Unfortunately (or not), he just kept saying that I would be fine and that God would take care of it.
Successful Christian Business Conference!
Finally, the day came and the conference went without a hitch…that is if you ignore the 20+ times our internet connection failed! Even so, it really did go smoothly. We were prepared for the hiccups and God paved the way for a smooth presentation (with Rajeev translating). It was truly a remarkable experience.
I cannot explain the excitement that was pulsing through me as I sat in my office in Georgia watching a group almost 8,000 miles away in India sit attentively listening to what I had to say about running a Christian business. The teaching lasted three hours straight (1.5 hours of material and the same amount of time spent in translating!). They never took a break, but sat quietly on the floor soaking it up.
Future Opportunities?
They ended the session with a couple of questions, including the request for further teaching. Rajeev also has another church or two that wants to do the same session in their nearby churches! I honestly do not have any idea where this is headed. Nor do I need to! I am much more inclined to just trust God at this point and see where He takes it!
My Take Aways
Here are some take aways I have from this experience:
What is God preparing you to do?
Are you being patiently faithful?
Do you see a take away I missed?